Ten years in the making, the Safdies' latest feat is a rapid bolt of mania that is skillfully crafted, and anchored by a career defining performance from Adam Sandler.


























In the span of ten years developing Uncut Gems, the Safdies have reaffirmed themselves as filmmakers of rage-inducing cinema. Their minor yet personal works have prompted the devastatingly raw and smearing Heaven Knows What to a more mainstream leap with Good Time. Their latest feat is an aggressively-pulp pounding, mythological sprawl. A contextual design of character and situation, and perhaps less political in the reigns of capitalism, but all the more effective by the predestined pathos of which its central character generates by rapacity. Their years of DIY filmmaking, and documenting New York from a viscerally gritty lens has all been a case of practice and study.
It has led to this film. A film comprised of an energy that is masterfully honed, it is relentlessly jarring, heavily ambitious by its thesis, and revolves around a performance that champions the compulsive mania of the sorts of New York City hustlers the Safdies have humanized to lengths reminiscent of young Al Pacino.
Uncut Gems begins in an Ethiopian mine, voiding through an opal of infinite chromatic shapes, and magnetic shifts so transcendent and awing—till it lunges from its radiant stimulant to the colon of Howard Ratner (Adam Sandler), entwining magic from beneath the soils of penury to a compacted frenzy that dabbles in native vice.
Howard, or as most people call him, 'Howie', runs a jewelry store in the diamond district. He's a compulsive gambler who can't seem to ever get away from the tremendous debts he owes, nor does it ever seem like he wants to. He owes money to his brother in law, Arno (Eric Borgosian), and is dating his employee, Julia (Julia Fox), while in the brinks of divorcing his wife, Dinah (Idina Menzel). His debts and failed marriage anchor on him, though Howard is less invested with that and more pledged to an Etheopian opal that's been delivered to him from Ethiopia, while also being introduced to a potential buyer brought to him by another hustler named Demany (Lakeith Stanfield).
The potential buyer is Kevin Garnett, and the film's specifically set in 2012 during the Celtics and 76'ers playoffs. Howard flexes the opal to KG, and to a mystifying effect, he's convinced in owning the opal, himself. Howard lends KG the opal in exchange for his championship ring, and it is from this exchange, the film regales in multiple riveting sequences of Howard trying to obtain the opal, dodging Arno and his goons, getting into a fight with The Weekend, and finding himself impulsively gambling over previous bets he's at complete odds with.
The Safdies' fascination for Howard is what keeps the film in constant intrigue. He's the best and worst kind of anti hero, a character nuanced by a bluntness for edge and irredeemable demolition. His interactions with everyone, including his father in law (an unrecognizable Judd Hirsch) are hyperbolically exhaustive, and commentate a measure of empathy for a man who's impetuous nature for stakes on their account only brings them closer to the ends of chronic tragedy.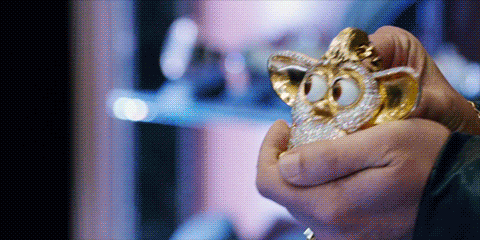 The score by Daniel Loptian (who scored "Good Time" to great effect) and sound design exceed the hysteria to an at times zany, and Nintendo melodic that'll triumph the overlapping shouting between characters. The cinematography from Darius Khonji claustrophobes in pulpy 35mm, scathing the sweat, the jewels, the watches, the rings, the restless and damning stares of angst and reverence, and the Ethiopian opal both Howard and Kevin Garnett are so captivated by.
It's fascinating watching Adam Sandler embody what has to be his most despicable character, yet. He cultivates a charm and desperation we've seen in Sandler's usual all-too-good-hearted demeanor, before. Though here, he adds an unusual layer that feels somber behind the explosive-foul mouthed ego. The films is always on him, and it is the performance of a lifetime. What the Safdies (as did Paul Thomas Anderson, Noah Baumbach, and Judd Apatow) found in Sandler, becomes more apparent the more we see him. It's impossible to imagine anyone else play Howard.
Uncut Gems begins and ends on a note similar to a greek tragedy if one were to set aside its mayhem. And at the same token, our first and last sight is mended to the spoils of unscathed wonderment. For Howard Ratner is, in the scheme of his own schemes, an uncut gem.
This is one of the best films of the year.