In a Less Conventional World . . . Here are the Nominees.
Weighing in my personal thoughts on some of the year's best films overlooked by Academy voters. From The Chambermaid, The Last Black Man in San Francisco, Parasite, The Farewell, Portrait of a Lady on Fire, and Uncut Gems -- 2019 was a sweeping year for the end of a decade compromised of redundant Blockbuster tactics. I sense a promising future, whether franchises continually triumph, there's a great deal of hope for great stories, and the exciting coming for a New Wave of independent wonder. Themes of the social class, capitalism, gentrification, and identity are becoming more known and personal.
Put it simply, if I were the only existing voter for this year's Academy Awards, these following names would be the nominees I felt were deserving. (WARNING: Bias perspective, considering this here is a personal list).
The Academy of Motion Picture Arts and Science revealed their list of nominees last Monday, and as always, the voters raise more curious brows and patent sighs than actual thrills. The race in this year's awards circuit has now come to its destination. A televised ceremony that has been socially accepted for being the most 'prestigious' celebration for film and filmmakers. Predictions for who will be nominated is set, and supposedly, we're varying the predictions for who will be this year's winners with care.
No, not really. But let's not disregard the fact that most moviegoers do wake up to the early morning announcements. All in all, though, who gives a shit?
We sorta', kinda' do. But not really.
But sorta', yeah.
Such as every year, the Oscars never fail to meet our expectations (if you're someone following the award circuit, beginning with the Fall's Gotham Awards). With questionable and annoying choices like nominating 9 films, rather than 10 (there is no reasonable explanation for this, remember when it was just 5?). Another year for a lack of diversity, with not one, but two nominations for Scarlett Johansson (Best Actress, (Marriage Story and Supporting Actress, JoJo Rabbit). Ford v Ferrari and Bombshell were dark horses, yet somehow managed a nomination over The Last Black Man from San Francisco and Uncut Gems. The Renee Zellweger biopic Judy was an obvious contender but did anyone even really see it? Would it have been a major loss to instead, nominate the breakout performances of Akwafina (The Farewell) and Noémie Merlant (Portrait of a Lady on Fire)? Does it seem odd that Parasite, the first Korean film to be nominated for Best Picture, was completely shunned from all acting categories? Cynthia Ervio's work as Harriet Tubman in Harriet was a pleasant surprise for the Best Actress category, but could it just be simply due to the fact this is, yet again, another biopic set during the slave trade (an Oscar favorite). What about Alfre Woodard's work for Clemency, or Lupita Nyongo's disturbing doppelgänger in Us? That yes, even with the exceptional list for this year's Director category, there is an absence of female directors from Alma Ha'rel (Honeyboy), Mati Diop (Atlantics), Celine Sciamma (Portrait of a Lady on Fire), Lulu Wang (The Farewell), and Melina Matsoukas (Queen & Slim)? In total, the Academy has only nominated four female directors (Greta Gerwig, Sofia Coppola, Jane Campion, and Lina Wertmüller), and awarded just one (Katherine Bigelow).
This year, we see familiar names (past winners and nominees) ranging from Leonardo DiCaprio, to Charlize Theron, to everyone's favorite good-guy, Tom Hanks, to Tarantino, and Scorsese. And while, yes, Once Upon a Time . . . In Hollywood, and The Irishman do, at least in my opinion, deserve their nominations, one begs the question of whether or not the Academy voters would be taking a more progressive chance in nominating films that don't necessarily revolve within established Hollywood.
The answer is yes.
Given some rare cases, Best Picture winners such as Moonlight, and Birdman originate from humble beginnings. Filmmakers of diverse backgrounds creating a new wave of modernism that goes surreally beyond subtextual means into gratifyingly ambitious swings of existential sentiment. But this is only ever so seldom, since voters make ordinarily blander, 'safer' choices with the kind of films that embrace award season flavor.
I guess that's what it all comes down to. Safe. Not that the Oscars represent cinema to me (after all, The Good, the Bad, and the Ugly wasn't even nominated, and that is practically one of the greatest films ever made), but since we are living in a conventional world in which the rule of the game applies within all aspects of industry practices -- we're more likely to roll our eyes to typically subjective declarations for 'standardized greatness' than what I can imagine many moviegoers would feel is defining within the times, and resonating within a creative caliber. We want excitement. We want to see televised appreciation for artists who come from diverse backgrounds. Artists with stories, perhaps similar to our own. We want to see the underdogs, the unlikeliest from the batch of already successors from esteemed Hollywood.
Here is a ceremonious foundation systemized by capital gain and studio monarchs vouching from gathering to gathering, word for word, favorite to favorite, and gift baskets that are worth the same amount of what most Americans can rarely make within a year's salary (just read Mark Harris' Pictures of a Revolution). An event that proudly announces boldness in their reach for distinguishing the best of cinema, though there is nothing bold about nominating a film. There's nothing bold when even nominating diverse films. There's nothing near the definition of 'bold', whatsoever, when talking about the award circuit and subjectivity.
It is more within the context of fair. Because, yes, in the grand scheme of this piece and a universal argument, one way or another, we are subjectively deciding what is considerably the best since no award ceremony (whether a critics association circle, or the more reputed) can establish an endless list of good cinema.
So it is no surprise that the ten best films on my Best of 2019 didn't make this year's cut for the Oscars (for the exception of Parasite, Once Upon a Time, and The Irishman). No doubt, 2019 was one of the best years of the decade, a relentless set of releases that exceeded expectations, and few relatively fun surprises. My Top 10 of 2019 goes as follows:
Parasite - Bong Joon-Ho

Pain & Glory - Pedro Almodóvar

The Chambermaid - Lila Avilés

Uncut Gems - Josh and Benny Safdie

Ash is Purest White - Jia Zhangke

The Irishman - Martin Scorsese

The Farewell - Lulu Wang

Once Upon a Time . . . in Hollywood - Quentin Tarantino

Honeyland - Jubomir Stefanov and Tamara Kotevska

Birds of Passage - Ciro Guerra and Cristina Gallego
Now when it came to creating my nominees list, I didn't simply just look at my Top 10 list and note a nomination per film. I can understand why Ash is Purest White, and Birds of Passage wouldn't mix in the list (regarding all categories) because what I put as nominees aren't just for the films I admired, but for the individual work in the films that I felt were taking chances. Because, hey, none of this is even a thing, so it doesn't matter. Nevertheless, it is nice to see this in text, and for a moment, merrily ponder on what would've been a pretty cool, and exciting 2020 Oscars race.
The list begins (in alphabetical order) . . .
BEST PERFORMANCE BY AN ACTOR IN A LEADING ROLE
Antonio Banderas for Pain & Glory
(Winner)
Occasionally there comes a performance modulating the weighing flaw of an artist, and their reach for self-seeking rediscovery (one applies for the Best Actress category). Antonio Banderas, who seemed absent for a good while after his heart attack, returns to form under Pedro Almodóvar (a long awaited re-collaboration). A performance, for the most part, suppressed of absolute sorrow, resonates the distinct personality of the film's filmmaker. Banderas is miles behind his noted charm, purely shaggy by a heedless default, and all the more vibrant as he is neurotic. Salvador Mallo, beyond his esteeming credibility, is very much a man pained by traumas and passion pioneered from a need for molding the quintessence. It is unlikely he'll win this year seeing as Phoenix's Joker is in the favorites to claim the helm -- but Banderas' approach for the role is less of a spectacle, and more nuanced in the realistic behaviors of an afflicted artist. Given the case, a poignant scene between his Salvador and Federico (Leonardo Sbaraglia) could've altered in a more hyperbolic fashion which would've enticed a dominance in rage Oscars love to gloat over. Instead, the performance is expressionistic by minimalism, and beautiful in its restraint.
Robert De Niro for The Irishman
Its been a good while since De Niro has truly immersed himself in a role that reminds us of his years as considerably one of our greatest leads. As in Raging Bull, De Niro approached Scorsese with the source material of I Heard You Paint Houses, and so forth came a towering effort in bringing The Irishman to lively fruition. There's something to behold when it comes to this. Normally when an actor is a producer behind a film, it'll guarantee a performance layered of such power (whether that, in its final cut, would be subjectively good or bad -- hey, Tommy Wiseau!). You can see the years of De Niro from his wearying eyes, the hollowness of his cut and dry movements, and the deception from his stammering (some may find this to be a redundant trait). Frank Sheeran is another memorable, and conflicted character under De Niro and Scorsese's creation. Yes, despite the flawed de-aging, De Niro truly immerses himself in a ghostly performance, hauntingly amending his supposed years as Frank with the kind of intricate mannerisms De Niro is so good at creating. It is the work of a master who's disappeared in a decade of bumbler studio flops, and resurged to an arise of muted power.
Jimmie Fails for The Last Black Man in San Francisco
Jimmie Fails, a name that was probably left out of the conversation from voters for this year's Best Actor, and with much of A24's success with films like Uncut Gems and Midsommar; this choice is coming from a place of a miracle in discovery. The Last Black Man in San Francisco is both magical, and hopeful in a time edging towards the antithetical. Much ado comes from the memoir of Fails, and a performance that isn't so much of a reenactment, but an august interpretation entwined of ancestral appreciation, and acceptance for a modernizing segue in a hometown Jimmie Fails grew up in, and cannot seem to fully recognize, anymore. Fails plays an every day man, which is the kind of performance that is often overlooked. It is heartfelt, simplistic, and even innocent.
Song Kang-ho for Parasite
It would be difficult to look at every singular performance in Parasite and not include them in all the acting categories. Song Kang-ho, a regular of Bong Jong-ho's, isn't necessarily the leading man of Parasite, but his role is the heavy weight for the film's universal theme behind the social class, impartiality by economical turmoil, and the human condition influenced by wealth. Ho plays the father of the Ki-taek family, and is the third (after his son and daughter) to masquerade as an employee for Park don-Ik (Lee Sun-kyun). He is also a gentile, ecstatic and merrily bovine. A proud father with an underbelly of rage just beneath the surface as the film progresses. Ho has been great in many roles, from Memories of a Murder, to The Secret Reunion, and Sympathy for Mr. Vengeance. His performance here is generated by an amazing ensemble, and still, he remarkably strays away from some of the film's most shocking moments that leave a hauntingly visceral mark in what is the film's unforgettable compass for identity.
Adam Sandler for Uncut Gems
(Runner Up)
Its an exciting time when Adam Sandler makes that rare transition from his Happy Madison productions, and collaborates with an energetic filmmaker appreciative to the actor/comedian's body of work. This time it is with the ferocious vigor of directing duo Josh and Benny Safdie for Uncut Gems, a film wildly generating conversation from independent lovers, and the mainstream. This is an exhilarating performance, a performance assembled from a chronic amount of momentum, scene to scene. At the same time, this is a work of criticism (as was Sandler's performance in Funny People, and Punch-Drunk Love), though I'm certain that wasn't the intent. What we're seeing in Sandler's portrayal of Diamond District, gambling degenerate, Howard Ratner, is a study of Sandler's comedic timing, and the zealous rage unprecedentedly earned from his more contriving, all too friendly-goofs. It was pretty obvious that given the critically appraised reception, and his Best Actor win at the National Board of Review, that still, Sandler would be left out of this year's Best Actor race. This is the kind of role inspired by young Pacino's relentless energy in Dog Day Afternoon, Harvey Keitel's manic Bad Lieutenant, James Caan's Thief, Dennis Hopper's Kenneth Barlow of White Star, and Rodney Dangerfield's Monty Capuletti of Easy Money. It is a role that utilizes the trademark of Sandler with a blundering force of angst, desperation, and defiant rage that inspires a great degree of hope within the madness. Like the Ki-taek family of Parasite, Howard is a hustler, and every step is a delusional reach for fool's gold. In Sandler's performance is there a level of empathy regarded for such a despicable character. To the voters who overlooked him, we say;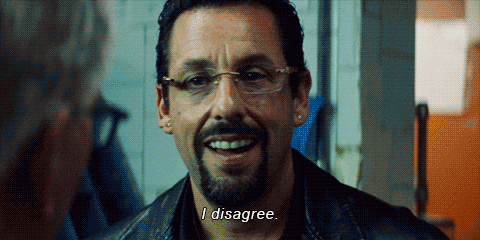 BEST PERFORMANCE BY AN ACTRESS IN A LEADING ROLE
Awkwafina for The Farewell
With a minutely comical ensemble, The Farewell is led by an even-tempered performance from Awkwafina. Her over-the-top scene stealer from Crazy Rich Asians now calls for a rewatch, and perhaps more of an appreciation (at least for me), when she's given the kind of affirmably-genuine material that makes greater use of her talents. Awkwafina is playing a third generation Chinese-American called upon from China to say her farewell to the family matriarch. She creates Billy from the inside-out, giving us dimensional versions of a woman trying to make sense of her family at the center of cultural clashing, and finding herself beneath the cultural awakening. A pleasant surprise from a performer who contains such uncharted depths.
Ana de Armas for Knives Out
(Runner Up)
Rian Johnson's Knives Out is another witty ensemble with notable names (Jaime Lee Curtis, Michael Shannon, Don Johnson, Lakeith Stanfield, and Daniel Craig) all chewing the scenery. So it'll be a surprise to anyone who hasn't seen the film yet when discovering the heart of this who dunnit' is Ana de Armas, (Blade Runner 2049, and this year's upcoming No Time to Die) with a wonderful and funny performance. She plays Marta, a trusted muse and house maid to a matriarch (Christopher Plummer) who becomes the subject of an unlikely inheritance, and immigration discourses of the Trump era through the egomaniacal members of the rottenly-spoiled Drysdales. She finds herself in the mix of the family's drama after the death of their matriarch, and an ostentatious detective called upon for investigation. Her performance is tonally balanced for a film devised to switch tenor (as all of Rian Johnson's movies do), and the relentless droll. Her scene with Christopher Plummer up an attic is one of the finest moments from an actor this year. In a way, Armas' Marta reminded me a lot of Francis McDormand's Marge Gunderson. She's an innocent bona fide at the very deep crux of a sinister plot. A Hitchcockian-Joan Fontaine take that is completely winning.
Noémie Merlant for Portrait of a Lady on Fire
(Winner)
Céline Sciamma's Portrait of a Lady on Fire is a hypnotizing film, a poetic elegy and sweeping splendor. It has the patience of a Jane Campion film, featuring two powerhouse performances from Noémie Merlant and Adèle Haeno as a painter for hire and an unwitting bride-to-be. Merlant reminds me of Marie-José Nat from La Vérité (the Bridgette Bardot, Henri-Georges Clouzot, 1960 thriller), there's a coquettish essence behind a purely fragile demeanor. She completely embodies that sort of muted curiosity Timothée Chalamet brought to Call Me by Your Name. Her many intimate scenes with Haeno propose a promising career perhaps within a similar extent to Huppert. What I particularly enjoy about this category is the range of performances comprised on compulsion from younger actresses who are truly dimensioning vulnerability beyond the one noted-Oscar bait performances we've seen from Jennifer Lawrence. They each bring something liberating to characters contested to the afflicted narratives they've mindfully clenched onto. Merlant evokes not only just the fervor temptations of Marianne, but she situates herself so coherently within the costume design and historical décor, she creates an identity so alive and true.
Elizabeth Moss for Her Smell
Alex Ross Perry's Her Smell was to generate some shock over Elizabeth Moss' extremely raw depiction of a punk rocker struggling with sobriety and re-experiencing the creative inspiration that led to her success in the first place. Every so often, as previously mentioned with Banderas' performance, we get a performance channeling an artist below their downfall, just in the sphere of self demolition and emotional havoc. Moss goes beyond the archetype, some might even recall Gena Rowland's work in Opening Night (a clear inspiration for Ross Perry), with monologues delivered so disorderly impaired it feels effortless and eerie. This a performance that is never contained, it caters heavily to the film's redundancy for unhinging-euphonic upsurge. Get wow'ed.
Mame Bineta Sane - Atlantics
Netflix users, behold the gem that is Mati Diop's Atlantics. The directorial debut from the Senegalese filmmaker (her uncle being the great Djibril Diop Mambéty) floats in a dystopian bleakness both ghostly and real, transient to the infinitely metaphysical power of the human condition. The acting debut of Mame Bineta Sane is soulful, and even gothic from the hindering romance shared with Ibrahima Traore. A new face for moviegoers to behold, and embrace. Who wouldn't want to see a collaboration between Sane and Moussa Touré (The Pirogue), or Alain Gomis (Tey)?
BEST PERFORMANCE BY AN ACTOR IN A SUPPORTING ROLE
Willem Dafoe for The Lighthouse
(Runner Up)
Has Dafoe ever been better? Robert Eggar's The Lighthouse is, in its gothic and mystical frenzy, a battle of fits and marauder type dialects between Robert Pattinson and Dafoe as repugnant lighthouse keepers trying to contain their sanity. Perhaps what makes Willem Dafoe's work so transcendent is his keeper, Thomas Wake, has already lost his sanity, so with that comes a prolonged aura of damning acceptance. Derided of any life spanning outside his grasp -- Dafoe is channeling the kind of role we'd see in a Herschel Gordon Lewis and Mario Bava film. Drunken, and cynical -- you can't take your eyes off him.
Jonathon Majors for The Last Black Man in San Francisco
(Winner)
Jonathon Majors' Monty is a friend of mine. He's the friend who is either following you through the course of such mundane occurrences of the day, or so goes the other way around. He is at times confused, defensive, inspired, and an intricate. He shows us the complexities of Monty from mild gestures and expression through the film's lyrical potency. He is fully realized, creating a man of rapid commentary, and an empathy we can try to deeply observe within our own friends.
Al Pacino for The Irishman
Many would argue Pacino's take on Jimmy Hoffa is one of complete extravagance. He totally cranks it for the film's biggest laughs, and its genuine heart. Exciting enough this is Pacino's first time collaborating with Scorsese, Pacino really encapsulates the fierce energy of Hoffa (even if he looks nothing like him). His best scene (as for the film's, too) is an encounter with Pesci's Buffalino, an exciting face off with the classic build up Scorsese has masterfully honed at this point of his career. Plus, he eats sundaes like a king.
Joe Pesci for The Irishman
Now while Pacino elevates, Pesci's performance comes off as a sweet surprise for what we probably would've assumed being menacing, unguarded, turbulent, the Pesci standard. His Russell Buffalino remains to be the most powerful man in the film, and yet his moderate voice, and discretion to foreshadowed violence comes across as a seamless reign of absolute. Its rare seeing him next to De Niro and being neither ferocious or uttering thirty f bombs per sentence. This return from a ten year hiatus feels so deserved, and accomplished, and perhaps the last we'll see of him. He plays Russell to a muted core. So its fun watching him take a howling from Pacino's Hoffa in the film's most electrifying scene.
Brad Pitt for Once Upon a Time . . . in Hollywood
I don't think a single person who saw Once Upon a Time . . . in Hollywood walked out thinking Brad Pitt's Cliff Booth wasn't the MVP of Tarantino's latest fantastical feat (kudos to Brandy, the dog, too). Pitt's been good, but he's never been this good. No surprise he'll likely win this year's Best Supporting Actor prize, and it is certainly deserved. Next to DiCaprio's narcissistic, grumbling faded movie star, Pitt is simply so cool and zen as his stunt double (Hal Needham vibes). What makes the performance even more pleasing is how subtle in context it is coming from the Tarantino universe (I'm thinking of Robert Forster's performance from Jackie Brown). We're spared the ultra-stylized dialogue for something more grounded, and edgier. Not to mention, he's having the time of his life (acid scene, pure gold).
BEST PERFORMANCE BY AN ACTRESS IN A SUPPORTING ROLE
Park so-Dam for Parasite
(Winner)
Park so-Dam's performance as the cleverly-deceptive daughter of the Ki-taek family is so rich in tone and delivery, it is criminal of the Academy to not have included her (over, let's say, the double nomination for Johansson). This is a best supporting actress worthy performance. Entwining sensual treachery, and cunning manipulation, so-Dam may be the second in command to the Ki-taek's master plan for fraudulence, but it is within her elicit charm that sets everything in motion. Her fate by the film's batty climax comes with complete shock, unveiling through her wit and tricks, an angered daughter.
Adèle Haenel for Portrait of a Lady on Fire
There's a moment in Portrait of a Lady on Fire when Haenel's Héloïse listens to an orchestra performing Vivaldi's 'Violin Concerto in G Minor', a piece performed to her earlier by Merlant's Marianne. We see her in a two in a half minute close up, reminiscing her affair with Marianne seen through her restraining expression. She closes her eyes and opens them, dauntlessly to welling tears. Haenel is a fascinating actress to watch (a muse, once a lover, and former collaborator to Céline Sciamma, from her two directorial efforts). Matched to Merlant's shattering performance, Haenel brings a fervid grace to a character who's embraced art as a means of liberating herself from past and present traumas.
Jennifer Lopez for Hustlers
Jennifer Lopez essentially steals every scene in Lorene Scafaria's Hustlers. From her incredible introduction and so forth, Lopez is kinetic. Of course she looks good, but behind the appearance comes a shattering portrayal of a true American hustler. The film has been compared to being a minor Goodfellas, and if that's the case, then Lopez is true-Queen-De Niro. There's a boldness and excitement to her physical performance, and a mothering grace bestowed to such tendering affect all throughout. Is anyone really surprised she can be this good? Perhaps like Sandler, when given the right material, an actor capable of reaching unforeseen territory and sheer awesomeness will truly shine.
Cho Yeo-jeong for Parasite
While the members of the Ki-taek family scheme their influences to the worrisome matriarch of Dong-ik, Cho Yeo-jeong's performance is an understatement for the gullible. A character that could've been foiled into being a running gag is essentially the more realized. Palpable to an overzealous nature for being intricately altruistic, Yeo-jeong's timing comes at the expense of great humor, and seething angst. A side note, and perhaps seldom regarded is her naturalness for being inelegantly nubile. How she achieves this and stems away from being narrowly comical is of vague brilliance.
Zhao Shuzen for The Farewell
(Runner Up)
Nai Nai, the matriarch who is nearing the end, is one of the great characters of the decade. She is brought to cordial affection by Zhao Shuzen, a stand in for Lulu Wang's actual grandmother. Who is Shuzen? I've never seen her before, but she's now become a breakout name for indie film goers. Check her IMDb, you'll only see three titles under her repertoire (a long form series titled The Story of Ming Lan, and Xiagang Feng's Only Cloud Knows). She's been a star in China, though even on Letterboxd, I couldn't find a single title. I commit to seek further. There really is no specific way for praising her performance, here. It is simple, and filled with winsome heart. In subtext, this is a story of a cultural clash, a woman's hesitation regarding the deception a family fronts for the sake of appearances and distractions from transparent verities. At the center, is a bond that, despite culture, can feel familiar and treasured.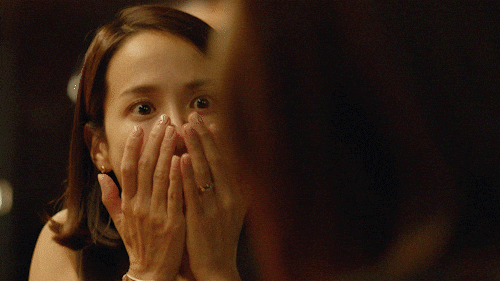 BEST ACHIEVEMENT IN DIRECTING
Pedro Almodovar for Pain and Glory
Pedro Almodovar has said his creation of filmmaker Salvador Mallo is not a memoir of the sort. There is no doubt, however, Pedro has made parallels of his own thoughts regarding filmmaking, lust, commitment, motherhood, forgiveness, and acceptance to the characters revolving Salvador, and himself. The maestro is perhaps my all time favorite director. A nomination is way overdue, and so goes it again. We often describe Tarantino and Scorsese as students of the cinema, or at least, pop culturally significant filmmakers still pushing that passion and knowledge into their own narratives. Pedro Almodovar is a Luis Buñuel of our time, we are too lucky to have him. His films are simply more vibrant reincarnations of the cinema that had inspired him. At a Q&A during the 57th Annual New York Film Festival, Pedro spoke heavily on Ingrid Bergman's collaboration with Roberto Rossellini, and their 1954 post war-era picture, Journey to Italy. The film is an archetype for suppressive passion, a case of rediscovery within the human spirit, and classical in its depiction of overseas romance. So what is Pedro saying on a broader sense with Pain and Glory? Cinema is his life, but through his artistic pursuit came an ordeal of pain that has made him learn to love again, and through this emerged a greater glory. The glory is not his career (though, it is rather glorious!), but in forgiveness. Whether that is from a love long lost, or earning a true love and acceptance from a mother. Pain and Glory is a statement through the craft. It is deeply existential, and nuanced. It is a master reincarnating of not just a cinema, but a life.
Mati Diop for Atlantics
This is an impressive directorial debut, an effort that successfully, in experimenting, meshes the narrative tonally from romance, to majestic terror. Atlantics isn't typical horror, Diop establishes an atmosphere completely involving. There's a level of meticulous ambition met with a naturalness that'll inspire a great deal of film students. More importantly, is her ability to inspire a remarkable performance debut from Mame Bineta Sane. What Bong Jong Ho does for the juxtaposing genres within Parasite, can be said the same for Diop's vision. One moment we're watching a film documenting a life by its temporal, within the next, we're trancing to the unknown. A bit of hollowness, a bit of fright, and a great deal of radiant splendor. This is confident filmmaking.
Bong Jong Ho for Parasite
(Winner)
Bong Jong Ho has done something I don't think has ever really be done in my years of being alive. He's made what I think is a perfect film. I'm not entirely sure what makes a perfect film, I regard The Social Network as a near perfect one when talking just about a film in its purest intent for being entertaining. Parasite is everything but bad, and boring. It is a riveting watch that is assembled with such grit and wit. Ho leaps for the fences, every single moment leading to the film's astonishing climax perplexes a modernized variant of Hitchcock's best. Ho devices every setting with a hyperbolic energy that is tight, instant, and tonally mint. There's never a moment too long nor short, never a performance that exceeds the film's crazed ambience. Every effort of his has led to this incredible work of art.
Josh and Benny Safdie for Uncut Gems
Ten years in the making, Josh and Benny Safdie have reaffirmed themselves as directors of rage inducing cinema. The brilliance of Uncut Gems, and most of their work, prior, is of course, the chronic-tension circulating their shady hustlers, but in the grand scheme of their troubles is it soulfully nothing more but just the hustle. They apply anarchy in relevantly simplistic stories. It is about the questionable behaviors of their people that transcends into the hyperbolic mania they've masterfully devised. You feel every bit of Howard Ratner's decision making in the course of Uncut Gems, and for the most part, you can't decide whether or not this is all for something more profound than just the grimacing nature of this character's delusion for greatness. From the film's grand opening in Ethiopia, to the chromatically shifting journey within the opal that leads to the colon of Howard Ratner -- the Safdies have accomplished a vision that cannot be compared nor attempted. They've done something fascinating with time, beautifully incorporating basketball history and trends of 2012 to influence the narrative. It has the soul of such New York crime thrillers that range between the seventies and eighties. There is a melodic and fierce craft that never loses its essence till we've lunged through Howard's bullet wound. The film may've been left out of the Oscar race, but it will inspire conversations for years to come. Kudos to their journey.
Celine Sciamma for Portrait of a Lady on Fire
(Runner Up)
Celine Sciamma's third film strays away from the kind of spectacle seen from the other four nominees. Rather, every frame is orchestrated as motif to an art form, and the designing value of what we're seeing is symbolically illustrating the muted inhabitance both Marianne and Héloïse confide in. Portrait of a Lady on Fire is an incredible passage of love, and boldly commits to a patience that manipulates the eyes and the heart. Let's talk about bonfires, shall we? There's an immersive sight in this film, a hypnotically still frame of a fire we've zoned into, and haunting in a piercing silence. Sciamma's direction feels completely formal and freeing, while at the same time, never letting us go from the sensual tension aroused by the film's powerful leads.
BEST ACHIEVEMENT IN CINEMATOGRAPHY
Jarin Blaschke for The Lighthouse
Robert Eggars' directorial debut, The Witch truly evoked sixteenth century England with its own touch of gothic mysticism. His second film, The Lighthouse immerses within its time, it feels exact while also feeling distinct. Black and white, high and low contrast, and shot on Kodak Double-X, a format with about four in a half stops of shadow latitude. The black and white has an orthochromatic appeal similar to Vampyr, with an emphasis for its rough texture and symmetrical framing of claustrophobia. In wavelength terms, there needed to be an elimination for red light on the spectrum, considering the orthochromatic appeal comes from the sources of just blue and green. To achieve this look with Double-X, Jarin had a custom made filter developed from Schneider Optics to appease with the film's 1:19:1 ratio. The simplicity of the film's location allows an overwhelming liberty for Jarin to reimagine such a period with classic gothic Hollywood. *Camera specs: Panavision Panaflex Millennium XL2, Bausch & Lomb Baltar and Petzval Lenses, Negative format 35 mm (Eastman Double-X 5222)*
Roger Deakins for 1917
I had no idea what I was walking into when seeing Sam Mendes' war epic 1917. It is the most ambitious (on a technical scale) of the films on this listing. Deakins deployed two steadi-cam operators with operating an electrical stabilized remote control head known as the Stabileye. The crew invented a gyro-post for the steadi-cam, so the operator can run forward down trenches with the camera framed reversed. Arri Trinity rigged a hybrid camera stabilizer that combined classical and advanced mechanical/electrical stabilization. At its core, 1917 is a case for technical literacy -- a film with only twenty lines of dialogue uttered, Deakins is working from both ends of a pragmatical standpoint in craft, and intensifying broad vision for light and tone. A film vulnerable to potentially being just a gimmick (a oner attempt that sets a new bar to reach), Deakins vessels a monument designed, sequence by sequence, to emit the Great War. He's been nominated fifteen times, now. Could this be his second win? (He's nominated with Jarin, Robert Richardson, Rodrigo Prieto, and Lawrence Sher). *Camera spec: Arri Alexa Mini LF, Arri Signature Prime Lenses, Negative Format Codex ARRIRAW (4.5K)*.
Darius Khondji for Uncut Gems
Darius Khondji seemed to be a questionable choice for the Safdie Brothers' latest film. Their regular DP, Sean Price Williams, prone to the guerrilla-hyper radiant extravagance known to the Safdies' urbanity, went on to shoot Her Smell. His absence feels evident, yet Khondji, a master of visual poignancy, perhaps magnifies the compulsive-mania revolving Howard Ratner's scope. This is a radical departure from Khondji's distinctive vision, though the beauty of his work in Uncut Gems comes from a place of risk. Every frame and movement feels organic, liberating, and spasmodic. The pulpy and saturated imagery of the Opal, Howard and Kevin Garnett's clammy bearing, and the hazing emanation of KMH jewelry are all of just inherent utopian. *Camera spec: Arricam LT, Panavision C-Series Lenses Arricam ST, Panavision C-Series Lenses, Negative Format 35 mm (Kodak Vision3 250D 5207, Vision3 500T 5219)*.
Hong Kyung-pyo for Parasite
(Winner)
Pyo's work for Parasite is an intricate visual study for the divided class. How? Vertical compositions, the use of rain, the use of stairs, and the use of variant domains. Of course for the latter, credibility is duly shared with Production Designer, Ha jun-Lee -- their work beautifully establishes the quintessence of forlorn desire. Recount the Ki-taek semi-basement-household, a doom-laden homestead framed and designed for compressed decay. My favorite, in particular, is the Ki-taek bathroom. Seen framed in either medium wides or a master generating both a cramped and freeing compass for both Kim ke-woo, and Kim ke-jung (as seen from the .gif, below). It is lit and staged to epitomize the insolvent air, the pollution and muck that is of greater contrast to the Dong-ik mansion. Residents of semi-basements normally turn on their unit indoor lights during daytime, a practical note Bong Jong-ho and Pyo considered when constructing the Ki-taek setting since the only beam of sunlight (from its architecture) flares through one minimal window of the inner basement. Pyo installed similar low-end lighting lamps; green fluorescent combined with tungsten incandescent.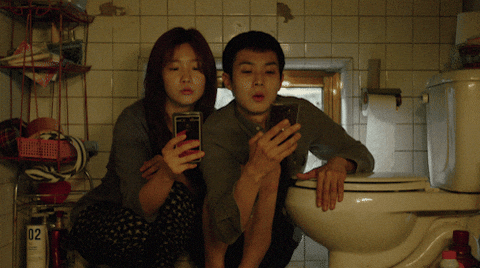 When it came to the mansion, Pyo applied dimmers, LEDs, and indirect sources to replicate elegant artificial lighting. The mansion takes in a generous amount of sunlight, too (given the mansion's extensive glass walling, exposing the yard). Given these elements, Pyo creates a softness and pristine nirvana type expanse. He plays with eye leveling that projects the division thematics. For instance, when looking at the Ki-taek's, they're always perceived from a lower eye level within their basement. The minute window from above unveils a corner of trash, sewage-type water, street cats, and tires of moving cars, showing a great amount of detail for the neighborhood, and the personalities amongst the family.
The mansion is within the standard eye level, with a view of pure mahogany, and in vogue-type furniture. Coming in between these distinct settings is the hidden basement (SPOILER ALERT: the cellar imprisoning Geun-se, the distraught husband of housemaid, Kim Chun-sook), meshing both low and high angles from the cellar stairs, and the form-fittingly cryptic hall. Parasite, at the moment of its cellar reveal, leaps into a deviant mode of terror, and Pyo achieves a degree of expansion within its claustrophobia. Put it simply, the Ki-taek home, within its catastrophic slum appeal, represents at its truest, community. For such high value of the Dong-ik mansion, from its cleanness and affluence, represents a tranquil of desire that, of course, the Ki-taek family descend into parasites for, but feels distant and isolated.
*Camera spec: Arri Alexa 65, Hasselblad Prime DNA Lenses, Negative Format (Codex)*.
Claire Mathon for Portrait of a Lady on Fire
(Runner Up)
If you close your eyes for a moment while watching Portrait of a Lady on Fire, you'll hear a spare amount of dialogue. Open them, and your eyes are confronted by colors of beauty and purity, not only appropriately emulating the narrative of a painter, but bearing the film's emotional weight. Mathon's imagery is picturesque, conjuring light as a spreadable pigment on a canvas. Every frame feels a stupor of earthy reforms, it requires a great amount of patience, slowly arousing the intimacy of its subjects. With inspiration of eighteenth century painters Vigée Le Brun, Artemisia Gentileschi, and Adélaïde Labille-Guiard, Mathon sought softness with no hard shadows, blurring the raw and contemporary aspects of the faces, while maintaining a precision and nuance for the colors, slightly rendering to its exact time. Her technique brings an organically historic life to the film's stunning landscapes and portraits. *Camera spec: Red Weapon Monstro, Leica Thalia Lenses, Negative format Redcode RAW (7K)*
BEST MOTION PICTURE OF THE YEAR
Parasite
(Winner)
Yes, it would be the first time in Oscar history a foreign language film wins Best Picture. Rome could've and should've been last year's winner, but it won for Best Foreign Language Film, instead. That's a given, as so goes the case for Parasite, which is sure to lose to recent PGA winner, 1917, and win Best Foreign Film over Pain and Glory, and Honeyland. The Oscar voters are likely to show a great amount of sympathy for another war movie (perhaps making up for overlooking the awesomeness of Saving Private Ryan), and/or a three hour love letter to a forgotten Hollywood. The voters are American based, and yet, this year's greatest phenomenon is one that attracts the excitement and awareness of both mainstream and indie audiences, alike. Every great foreign film will now always be the first to win the main prize, but probably never will actually claim the statue. The Academy is only really marginally progressive, these days (it'll take maybe another decade to get it right). Bong Jong-Ho's film is a flat-out masterpiece, a film that exists at a time striving for an equality of class and moral absolute. It has the ingredients for a completely realized narrative. It is funny, sharp, shocking, terrifying, deep, and involving.
Portrait of a Lady on Fire
Marianne: He chooses the memory of her. That's why he turns. He doesn't make the lover's choice, but the poet's.
Héloïse: She spoke a last farewell that scarcely reached his ears and fell back into the abyss. Perhaps she was the one who said, Turn around.
Beautifully written, as with most of this film, Céline Sciamma's Portrait of a Lady on Fire is an expression of art. A forbidden love story imbued with a creamy vibrancy, and hypnotic patience. Uniting an improbable pair through the boundless grandeur of art. Marianne, a painter for a bride to be named Héloïse, can only embrace their affair in silence -- a major stake in the film which is brought to our attention very early on. I appreciate how straightforward it is, and how familiar it feels to one's process for craft, despite it being set during the eighteenth century. Sciamma's imagery is a lyrical language for posed intimacy, making incredible use of close ups that immerse a tension so engrossing and buoyant. The sequence I will never forget is Héloïse standing over the bonfire. I sat, and watched as though I were high. Its an eerie, but beguiling sight. After experiencing Portrait of a Lady on Fire, I felt a heavy ache that stayed with me from recalling certain lines of dialogue and imagery. I love films about creators, and the process. It celebrates art and life, really, even through its sadness by the film's closing sequence. For Marianne, art is a means for survival and selfhood. For Héloïse, it is a means of escape and reconciliation. They discover true romance from an art quintessentially expressing their truest selves. I hope to one night dream a world such as the one Sciamma and Mathon created, here.
The Irishman
Scorsese's The Irishman is unexpectedly somber. My takeaway of the film revolves more on the director's moral outlook on redemption and sin. This isn't necessarily new for Scorsese, however, his approach to this material is less of an extravagance in craft, and more muted in its emotional core. Fans of Goodfellas and Casino will miss the flash and relentless energy that made those films' depiction of organized crime life to be of guilt-ridden glee. This reunion for Scorsese, De Niro, and Pesci sets a new and final bar for Mob cinema, a film that recounts a life of lies and a great degree of violence. There's a retelling of America and its organizational influence for political dissolute, and preserving legacies. All in all, The Irishman begins and ends with an old, and lifeless Frank Sheeran at the center of a life left in isolation.
Uncut Gems
(Runner Up)
It would've been nice to see the Safdie's Uncut Gems in the runnings for Best Picture. This is an awesome film, centered on a tour de force performance generating long deserved praise. At its essence, is a character study told through a radical lens, shifting in a mania that'll inspire copycats, and annoy others. It takes us from the mines of Ethiopia to the innards of Howard Ratner's facial bullet wound and beyond. Great movies come from a place of confidence and heart, the Safdies ten years in the making generated a repertoire of some small, personal films. Each created within the means of independence, documenting New York and crafting powerful characters from non actors. Every film from Daddy Longlegs to Good Time has led to the ambition of Uncut Gems. A New Wave of American cinema is soon emerging, I predict. With character studies destined for countless debates, and a visual vibrancy contrasting guerrilla filmmaking with David Lean-greatness. It is a tale of a despicable man with a common dream, delusional to the truth, and addicted to chaos. Its hard to imagine why anyone would want to follow Howard, but his chase defines a great hustle that'll edge some to a place of no return, whether we want to believe it or not.
The Farewell
Lulu Wang's The Farewell announces from the start this is all 'based on an actual lie', but its meaningful truths display a personal and powerful depiction of a family in the midst of crisis. Perhaps that is an element of life we all universally share, despite cultural specifics. The crisis was Wang's crisis, her grandmother was dying in China, and to get everyone together, a fake wedding was planned to spare the matriarch of her death awaited news. Awkwafina's Billi is the Americanized voice of reason, a mirroring image of Lulu Wang, herself. This lie is one of many lies concerning Billi's family, and the film does an incredible job exploring the cultural difference of the West and East between generations without a bias or prejudice outlook. The film's influence comes from a story Lulu Wang shared in an episode of This American Life, its the kind of miracle of a film our time needs right now. Zhao Shuzen's Nai Nai, the grandmother, is my favorite of the cast, her performance is one of the best of the year. She perfectly evokes a sincere charm and genuine forwardness that is neither cold nor cliched. I smirked for most of her scenes, they are rather moving, and tonally blend the comical and sorrowing reality that makes The Farewell a deserving nominee.
BEST FOREIGN LANGUAGE FILM
Atlantics
Mati Diop's directorial debut exists in a methodically haunting state of fantasy and harsh despotic essence. Atlantics will probably not work for everyone, but it should be seen. Go into it not knowing a single thing. It took me by surprise. The film, if anything, is a champion for the new Senegalese wave of cinema. The culture has drastically suffered through the years, with only a scarce amount of productions, and theaters -- though, with Moussa Touré's 2012 The Pirogue generating a newfound awareness for Senegal cinema, Diop marks a new name for herself in the resurgence, amongst filmmakers Alain Gomis, and Mariama Sylla. At its core, Atlantics is a universal tale, a soul searcher binding emotional desire from the real world with a spiritual essence of idiosyncrasy.
Pain and Glory
(Winner)
I should probably note the production design by Antxón Gómez, and cinematography by José Luis Alcaine feel and look different this time around (the film was shot on digital, Arri Alexa SXT), and while their work cannot be compared to the magic of their work in celluloid seen from Almodovar's previous films, there's no denying the sheer power and vividness of this emotional journey unveiled in Pain and Glory. I know my love for this film may seem bias, but like Fellini with 8 1/2, Pedro is indulging in a revering level that pars between dreams, memory, and the idyllic influence of the cinema. He loves the movies, and so does Salvador, but perhaps his ambition came with a great deal of loss and reserved passion. Given its timeless themes for forgiveness, and memory -- Pain and Glory, from an existential perspective, could be Pedro's final film. But who would honestly want that?
Honeyland
The bee keeping scenes in Honeyland had me feeling as anxious and awed as I did during Uncut Gems. This here, is a beautiful discovery. A story of an actual hero, Hatidzhe Muratova, the last of Macedonia's nomadic beekeeper, restoring natural balance by attempting to save the bees of honeyland after a majority of beekeepers in Europe retrieve more honey than they should've. A great documentary will feel bigger than life, itself. I've stated a couple of times now my appreciation for films about the process. Ljubomir Stefanov and Tamara Kotevska's film plays like a meditation for healing, and the earthly spirit. Hatidzhe becomes a person we're completely invested in, who seems virtuous and prudent by her commitment to doing the right thing. There's a profound wisdom at the heart of Honeyland, a singular vision that sees things more clearly than most of us, and larger in essence from a small part of the world.
The Chambermaid
(Runner Up)
"My name is Eve".
Says Eve, a chambermaid attempting to make a change for her life in Lila Aviles' quiet marvel, The Chambermaid. Gabriela Cartol's performance was near making my Best Actress list, its minimal and quite ordinary approach makes what we're seeing seem so insipidly true. Rare use of words, such reticence in her voice, sometimes a naturally great performance comes from giving little to nothing. Her Eve is a woman who's days seem eternal, trapped in the one place she's submitted herself for the help she so desperately seeks. Like Honeyland, this film is a gentle observation of a woman at her work, except, Eve aspires for something more. She wants a friendship, she wants a sense of community, she wants love. Viewers may be unmoved by the film's redundancy, expecting Eve to find herself situated in tough-social encounters, but no. The Chambermaid is about real person with an unfulfilled life -- that is real. She's young, and spared the kind of opportunities many people her age can have. Obviously the film, without even trying, communicates a social theme on class, poverty, labor, and selflessness -- but it is so much deeper than that from an introspective level. Eve's story is so true and small, which is what makes it so universal and defiant.
Birds of Passage
Cristina Gallego and Ciro Guerra Birds of Passage opens in a remote, barren piece of northern Colombia, where a family of the indigenous Wayúu celebrate Zaida's (Natalia Reyes) ritual for isolation. She's proven to be ready for marriage, and so immediately arrives Rapayet (José Acosta), a man from a neighborhood family who wants to wed her. Zaida's mother, Ursual (Carmiña Martínez), seems very suspicious of Rapayet's intentions the moment he's made them abundantly clear. She commands a marriage settlement that she assumes is far beyond the man's capability. It involves retrieving goats, cows, and valuable necklaces. The way Rapayet is able to attain all of these fundaments comes from an enrichment of crime that turns this innocent origin love story into a paramount of immorality and honor. Based on the events sprawling from the 1960s-80s, Birds of Passage is told in four chapters, and an epilogue. Its focus is on the "Bonzana Marimbera", an era in which the people in the Guajira region of northern Colombia became involved in drug smuggling. Rapayet and Zaida's marriage spirals through years of wealth, and sin. Deaths of family members, and depravity playing a shameful part of a son's moral compass become a pattern for the parenthood and lives of Ursual, Zaida, and Rapayet. Gallegos and Geurra a few years ago made the under appreciated, Embrace the Serpant, which depicts the spiraled influence seen through several decades of indigenous people interacting with Europeans and a shaman. Time will alter the motives of virtue for the vices now seen to a hyper stylized affect in Hollywood's attempt at glorifying the depiction of this history seen in Narcos. The actors portraying Ursula, Zaida, and Rapayet create such imposing personalities, surrounded by mostly faces of the Wayúu culture, as does thirty percent of the production crew. Birds of Passage, I should add, is a towering epic in all measures. Its magical realism and grand finale makes for a tragedy merited for Greek and Shakespearean. I hope more people go see this. One evening, I randomly decided to go to Film Forum, and the film's title caught my eye. Birds of Passage. Since I've seen it, and through conversation, I can never seem to shake off the imagery of the film's opening ritual, and the corpses that lie amongst an army by the film's chilling end.
Best Original Score
(not in alphabetical order)
Emile Mosseri for The Last Black Man in San Francisco
Daniel Lopatin for Uncut Gems (Winner)
Disasterpiece for Under the Silver Lake
Nainita Desai for For Sama
Best Original Screenplay
(not in alphabetical order)
Pain and Glory by Pedro Almodovar
Parasite by Bong Joon Ho and Jin Won Han (Winner)
Uncut Gems by Ronald Bronstein, Josh and Benny Safdie
Once Upon a Time . . . in Hollywood by Quentin Tarantino
Portrait of a Lady on Fire by Céline Sciamma
Best Adapted Screenplay
(not in alphabetical order)
The Farewell by Lulu Wang (Winner)
The Irishman by Steve Zaillian
The Last Black Man in San Francisco by Joe Talbot, Robert Richert and Jimmie Fails
Just Mercy by Deston Daniel Cretton and Andrew Lanham
High Flying Bird by Tarell Alvin McCraney
Best Film Editing
(not in alphabetical order)
Ronald Bronstein and Benny Safdie for Uncut Gems
Jinmo Yang for Parasite (Winner)
Thelma Schoonmaker for The Irishman
Lucian Johnston for Midsommar
Louise Ford for The Lighthouse
Best Documentary
(not in alphabetical order)
Honeyland (Directed by Tamara Kotevska, Ljubo Stefanov) Macedonian, Turkey (Winner)
For Sama (Directed by Waad Al-Kateab, Edward Watts) Syria and United Kingdom
One Child Nation (Directed by Nanfu Wang, Lynn Zhang) Mandarin, China
The Cave (Directed by Feras Fayyad) Syria, Denmark, Qatar, and Germany
Apollo 11 (Directed by Todd Douglas Miller) Canada